National Horse Riding School: Le Cadre Noir of Saumur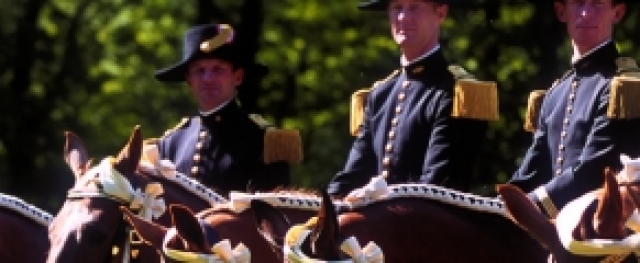 From February to October, enter the corridors of a unique school in France where the instructors are none other than the celebrated riding masters of the Cadre Noir.
Visits through the great indoor arena, the stables and the tack room will take you on a voyage of discovery of the history of the Cadre Noir since its creation in 1815. You will discover a place where the relationship between man and horse becomes magical.
The public performances allow you to watch the ecuyers of the Cadre Noir at work in the Grand Manège. The commentary provided by an ecuyer will give you an appreciation of the work involved in training the horse, jumping, in long reins, the airs above the ground, and classical riding.
Different dates of official galas gives you the opportunity to watch the traditional gala of the Cadre Noir : an unforgettable moment dedicated to French equitation !
Discover all the dates for the 2016 galas and performances on http://www.cadrenoir.fr
Source : http://www.cadrenoir.fr
Images : http://www.cadrenoir.fr